Get the Tax Nerd Talking
Turning complex retirement tax strategies into understandable concepts that stick to help forward-thinking financial advisors take a solutions-driven approach to every engagement.
Retirement planning is complicated, but it doesn't have to be boring.
At HLS Retirement Consulting, our mission is to serve as a trusted partner to forward-thinking financial advisors. With over 50 years of dedicated experience in the financial services industry, we provide advisors with the resources they need to deliver exceptional retirement planning and advisory services to their clients.
Speaking and engagement opportunities are among the best ways to impact the industry.
Heather is frequently asked to speak at industry events, radio and TV programs, and webinars. She is often quoted in financial publications such as USA Today, Forbes, MarketWatch, Investors' Business Daily, Ed Slott's IRA Advisor, and Retirement Daily.
Heather is a fun and engaging speaker. She has become an expert in turning complex retirement tax strategies into understandable concepts that stick and is committed to helping financial advisors navigate the complexities of retirement planning, ensuring they can meet their clients' needs with confidence and clarity.
The core of retirement planning is the people you serve, not the products you offer.
Heather Schreiber
Most Requested Talks and Presentations
---
Navigating the Critical Ages of Retirement Income Planning
A road map approach to the critical ages that every financial professional should know to help their clients and prospects more effectively build and navigate an informed and empowered retirement. Heather identifies key actionable steps to accumulate, protect, and enhance retirement income along the way.
5 Critical Social Security Concepts Every Advisor Should Know to Elevate Their Credibility
Social Security is the foundation of a solid retirement income plan, yet many pre-retirees lack the knowledge to make an informed claiming decision. This is your opportunity to shine! Heather uncovers five critical components that every financial professional should understand, along with the strategies to instantly elevate your credibility.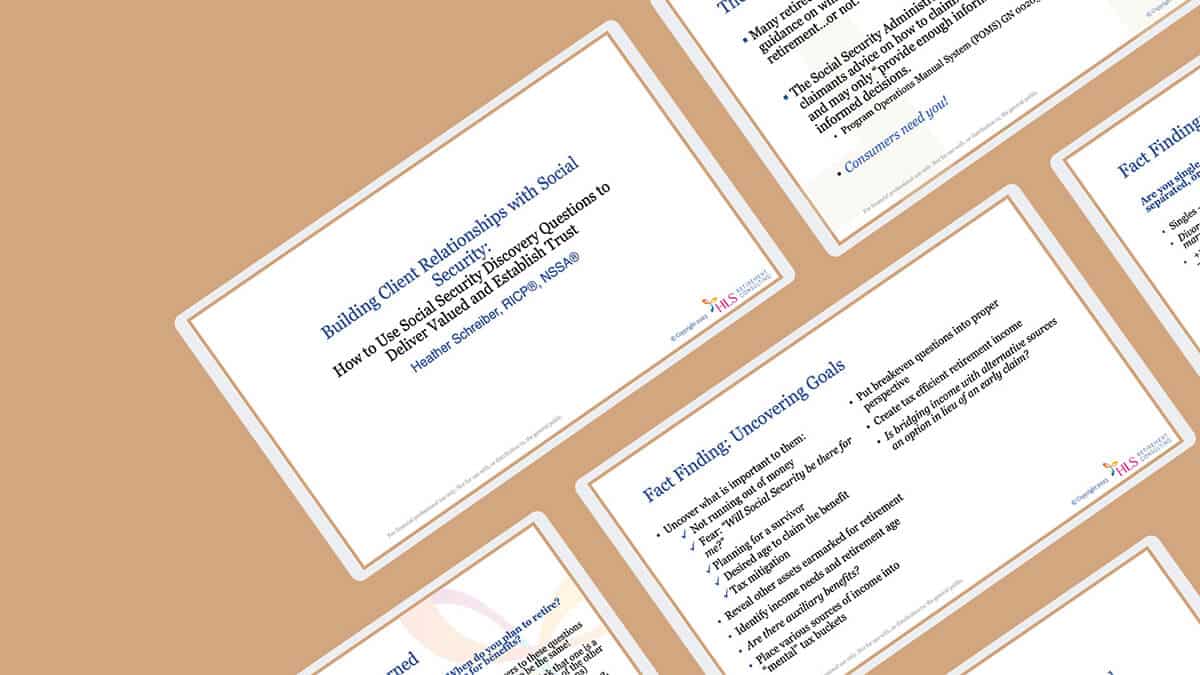 Building Client Relationships with Social Security
Uncover potential opportunities to enhance the overall retirement income strategy by identifying the right questions to ask. Heather unpacks the Social Security discovery questions that naturally lead to a broader and more holistic discussion of your client's retirement income strategy. Gain more credibility by adding value to your fact-finding process while building strong, trusting client relationships.
Operation Decode: Top Tax-Related Annuity Questions Answered
Join Heather as she dispels the most common points of confusion among financial professionals when it comes to annuities. Whether it's changing ownership, how annuities are taxed, how to properly advise an annuity beneficiary, or deciphering product guidelines from tax law, this presentation will leave you with more than on "a-ha" moment!
Social Security through the Lens of Today's Woman
When it comes to preparing for retirement, women have a unique set of challenges that are less likely to be experienced by their male counterparts. These challenges present an opportunity for you to help your female clients more adequately prepare for retirement. From a likelihood to experience breaks in work history, longer life expectancies, and relying more heavily on Social Security for a significant portion of retirement income, it is important to understand how to leverage these important benefits for your female clients.
Operation Roth – A Road Map to Tax-Free Income in Retirement
Diversifying assets earmarked for retirement isn't just about mitigating market risk. Join Heather as she digs into the nuances of Roth IRAs and designated Roth accounts to offer a powerhouse of opportunity to mitigate taxes in retirement. Learn how to use Roth strategies often missed to offer flexibility in drawdown strategies to keep more in your clients' pockets and less in the hands of Uncle Sam!
Social Security Deep Dive Course
This course is designed for the firm or advisor who desires to engage clients in a more meaningful way by offering Social Security optimization to retirement income planning services already offered. Broken into segments, the course covers basic eligibility, auxiliary benefits, how to work with non-covered employees subject to WEP and GPO, and how to help consumers better navigate the age-old question "when should I file?" This course leaves no stone unturned and will give the attendee greater confidence in adding Social Security to holistic retirement planning services already offered.
Audiences All Over the Country Are Listening to Heather…
---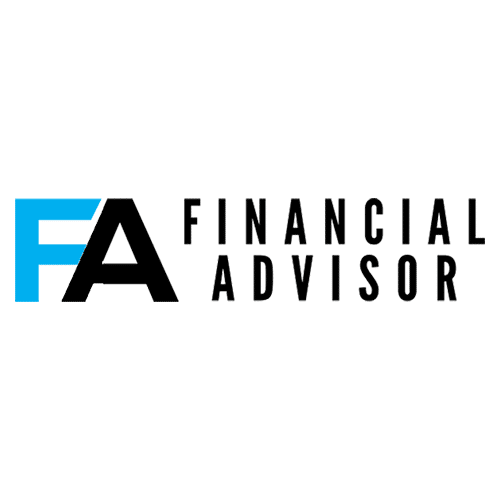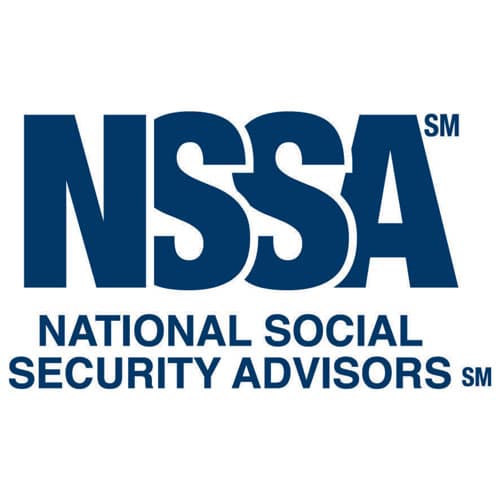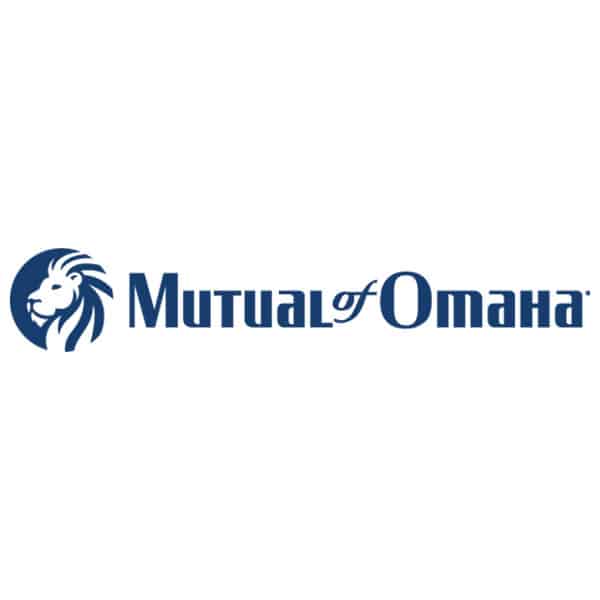 Reviews From Our Talk on Social Security and Medicare Planning With Ed Slott's Elite IRA Advisor Group
---
When it comes to Social Security and Medicare planning, Heather Schreiber is the speaker you want. Heather presented at our financial advisor program to rave reviews from some of the most highly educated and knowledgeable financial planners and tax advisors in the country. These are seasoned advisors – a tough audience – who are not easily impressed and often challenge our speakers with high-level questions. Heather dominated the discussion. Her confidence and knowledge level had our advisors trying to keep up! They loved her presentation style and were impressed with Heather's vast knowledge.
Ed Slott, CPA
Founder and CEO of Ed Slott and Company
I thought I knew a lot and she surprised me. I got her card and will be calling for help.
Heather's presentation was current and the topics and examples brought to mind specific client cases I am currently working on.
I wish I could take a course to know as much about Social Security as Heather does. I feel like I retained the tip of an iceberg, and would like to know this area as well as she does.
Heather Schreiber
Turning complex strategies into easy-to-understand terms for over 30 years.
Our founder, Heather Schreiber, RICP®, NSSA®, has over 30 years of experience in the financial services industry and has worked with some of the finest organizations in the country, including Franklin Templeton Group of Funds, AXA Advisors, SunTrust Bank (now Truist), and other financial powerhouses. Her dedication has now taken a new, exciting direction as she joins The American College of Financial Services' Knowledge Hub+ platform as an industry expert, contributing her deep insights into Social Security and retirement planning.
She has dedicated her career to developing expertise in a wide range of retirement-related topics. From estate planning and retirement income distribution strategies to charitable giving, multi-generational planning, tax mitigation techniques, and IRS reporting issues, her breadth of knowledge is unparalleled.
Heather has a knack for simplifying complex ideas and uses her superpower to teach financial, tax, and legal professionals new strategies to help their clients move into retirement with greater confidence.
Heather volunteers on the Education committee for the National Association for Fixed Annuities and regularly participates in educational webinars and speaking events as part of NAFA's initiative to educate annuity salespeople, regulators, legislators, journalists, and industry personnel about the value of fixed annuities and their benefits to consumers. Heather is also on the Annuity Distribution Summit planning committee, where she received the NAFA Pillar Award in 2022 for Outstanding Contributions in Annuity Education.
Heather resides in Woodstock, Georgia, and is married to Eric. She is also the proud mom of two sons and two bonus daughters who help her balance out the family's testosterone. In her spare time, Heather relishes every moment with her family, spending time with lifelong friends, and communing with nature in every possible way.
Rates for Speaking Engagements
Whether you're planning a live or virtual event, Heather's unique talent for breaking down complex ideas into digestible and actionable elements bring fresh and exciting insights to inspire and motivate your audience. Her ability to command the conversation with ease, expertise, and charisma ensures that your audience is captivated and engaged from start to finish.
Virtual - $4,000
Virtual speaking events start at $4,000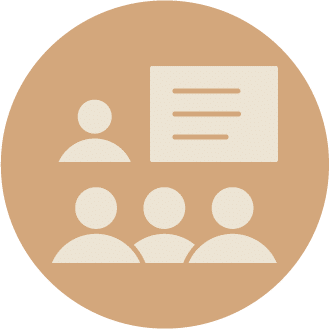 Live - $9,000
Live speaking events start at $9,000
Delight and Educate Your Audience
---
Email us to inquire about booking a speaking engagement with Heather Schreiber for your next event, webinar, or podcast.