Think Outside of Single-Threaded Solutions
Real world knowledge and technical know-how for retirement planning and forward-thinkers.
Learn more about navigating through the nitty-gritty of Retirement and Social Security.
The Social Security Administration (SSA) has announced a 3.2% cost-of-living adjustment (COLA) for Social Security and Supplemental Security Income (SSI) beneficiaries in 2024. This increase aims to help retirees and disabled individuals keep pace with inflation. While the adjustment is lower than in previous years, it still boosts recipients'
Find Heather on YouTube to get your questions answered and grow your knowledge base when it comes to advanced financial planning.
Understanding the nuances of retirement accounts can be the difference between a secure financial future and unexpected pitfalls. Heather Schreiber, RICP®, NSSA®, in collaboration with Merit Financial Advisors, has crafted a three-part video series titled "Money on The Move" to guide you through the complexities of retirement plan and
Heather Schreiber (NSSA®) is a social security expert, and in this short clip with Brad Pistole, she touches on the often talked about "break even point" in regards to choosing what age to trigger social security benefits at.
Brad Pistole interviews Social Security Expert, Heather Schreiber (RICP, NSSA, Founder of HLS Retirement Consulting).
This clip is an excerpt of a one-hour professional development CE program produced by the Int'l Retirement Resource Center called Uncovering Opportunities to Enhance Your Clients' Retirement Income. If you are interested in having Heather speak at your next event please visit our Speaking page to learn how.
Get great advice on the go with conversations between your favorite tax nerd and forward thinkers.
Navigating social security for retirement can feel like a maze, filled with questions and uncertainties. How do you approach applying? When should you take it? What do factors like age, sources of income, and spousal benefits mean to you? Fortunately, Heather Schreiber, a Retirement Income Certified Professional with over
In this Episode of the Secure Your Retirement Podcast, Radon and Murs speak with Heather Schreiber about social security spousal benefits and how it works. Listen in to learn how spousal income works for couples with wide disparities in income benefits. You will get the full picture of how
When it comes to knowing the ins and outs of Social Security, Heather Schreiber is in a league of her own. She is the go-to source for the financial services industry to train advisors on the fiduciary approach to advising clients on how to maximize Social Security for each
See articles that Heather has been featured in.
The American College of Financial Services is proud to announce the inclusion of Heather Schreiber, RICP®, NSSA®, a luminary in Social Security strategy and founder of HLS Retirement Consulting, as an industry expert for the newly unveiled Knowledge Hub+, a transformative learning platform aggregating pivotal insights from a cadre
In the complex dance of retirement planning, deciding when to claim Social Security benefits is a pivotal step. It's a decision that can significantly impact the retirement income landscape. Financial guru Heather Schreiber, with her extensive 30-year tenure in the financial services realm, offers her expertise into the intricacies
The Social Security cost-of-living adjustments (COLAs) have been a hot topic in recent years, with beneficiaries experiencing some of the highest increases in four decades. As we look ahead to 2024, experts are predicting a more modest rise in monthly payments, with the inflation gauge used by the Social
In a recent article published by Retirement Daily, Heather Schreiber, founder of HLS Retirement Consulting, provided expert commentary on the major 8.7% increase in Social Security and Supplemental Security Income benefits for 2023. This adjustment, affecting approximately 70 million Americans, marks the largest Cost of Living Adjustment (COLA) since
Heather Schreiber, founder of HLS Retirement Consulting, recently shared her expert insights with USA Today about understanding Social Security benefits statements. While these statements appear straightforward, indicating an estimated monthly retirement benefit that varies based on the collection age, that they also contain easily overlooked or misinterpreted items. The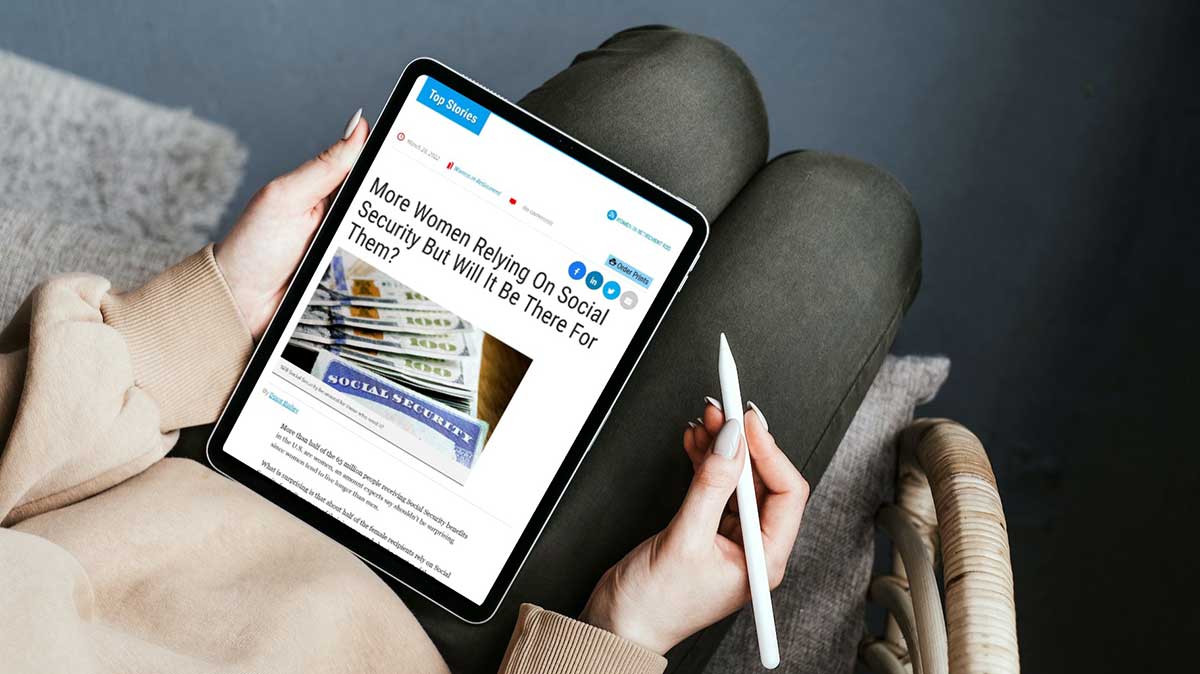 In a recent interview featured on Insurance NewsNet, Heather Schreiber, founder of HLS Retirement Consulting, underscored the increasing reliance of women on Social Security benefits and the necessity for financial education catered to their unique needs. Drawing from statistics, she pointed out that around half of the female Social
In a recent feature in Investor's Business Daily, Heather Schreiber, founder of HLS Retirement Consulting, provided valuable insights into the challenging decision of when to start collecting Social Security benefits. She highlighted how delaying the start of these benefits could lead to significantly larger payouts, potentially increasing an individual's
In an insightful webinar titled "Social Security Insecurity: A New Consideration in Retirement Planning," hosted by the American College of Financial Services, Heather Schreiber, President and Founder of HLS Retirement Consulting, together with other retirement experts discussed the potential impact of COVID-19 on Social Security. The experts highlighted the
Stay ahead of the curve with Social Security Advisor.
A companion resource to Ed Slott's IRA Newsletter, this is the go-to "all things Social Security" newsletter and reference tool for financial professionals. Providing practical applications to commonly asked and misunderstood claiming rules, Social Security Advisor is a must-have for any financial and tax professional who wants to add value to their financial and tax planning process.